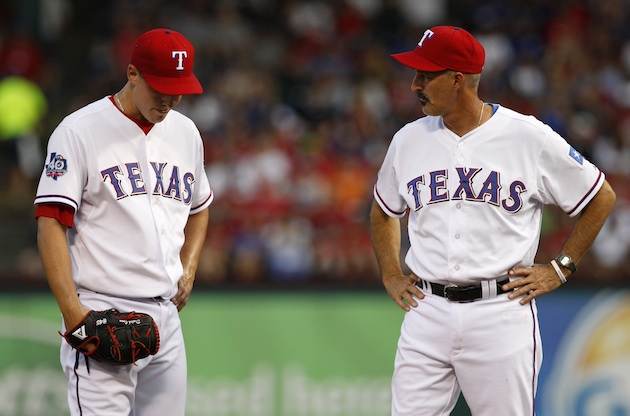 Yea, and when the Philistines hath batted around in the inning, Maddux brother of Greg pulleth Holland and summoned yon reliever.
It's been a rough couple of weeks for Rangers starter Derek Holland. Just after Memorial Day, Holland made the anemic Seattle Mariners look like the '27 Yankees, giving up eight runs in less than two innings May 30. Just to prove it was no fluke, Holland labored through a five-inning start against the Oakland A's in the pitcher's haven that is the Oakland Coliseum.
The Rangers put Holland on the
disabled list
with a "fatigued shoulder" and blamed a stomach virus that saw "The Dutch Oven" drop some 15 pounds. But
Grantland's Jonah Keri
has the real story:
"I think it's gone long enough. It's had fun. I just want to get back and bring the baby face back out. Nothing's going to change. It's not going to affect my performance. I think it's time it slips off for a little bit, give it a little bit of a vacation. It will come back."

That was Derek Holland talking to Richard Durrett of ESPN Dallas about his plans to shave his mustache before Wednesday night's Rangers-Mariners game. A few hours later, he got pummeled for eight runs in 1 2/3 innings. Against the Mariners. The same Mariners who ranked 22nd in MLB in runs scored heading into the game.

I mean … where do you go from here? Fake an injury and go on the disabled list until you can grow another mustache? Wear a fake 'stache for your next start? It might all be futile anyway. One imagines the thousands of tiny stray hairs from Holland's sink drain regenerating Terminator 2–style and seeking vengeance for their former owner's treachery.
That same ESPN Dallas article, by the way, mentions that Holland had just cut his hair as well. That settles it: we're dealing with a full-on Samson and Delilah-style tragedy here. Like Samson, Holland was known for his unusual hairstyle choices; like Samson, Holland lost his strength after forsaking said hairstyle; like Samson, Holland slew thousands of his enemies with something made from dead livestock*.
* - Fine, so a leather-bound baseball is not the jawbone of an ass. But Holland has pitched 460-2/3 innings, which works out to 1,382 enemies slain, of which 382 were slain via strikeout.
Want actual proof? Feast your eyes on this comically small sample size from this season:
With the Stache
10 games, 60 IP, 4.05 ERA, .224 BAA, 20 BB, 55 K, 7 HR, 0 starts missed
Without the Stache
2 games, 7 IP, 14.14 ERA, .417 BAA, 4 BB, 4 K, 4 HR, 1 DL trip
This is the part where I pretend to do science things on this blog, looking at the underlying numbers (via
FanGraphs
) and making an educated guess as to his performance going forward. But the fundamental numbers for the season -- velocity,
strikeout rate, walk rate
,
fielding independent pitching
, etc. -- look in line with his career norms, and the stats more dependent on
luck
--
home run-to-fly ball rate
,
batting average on balls in play
,
runners left on base
, etc. -- don't seem too unreasonable, so I think it's safe to chalk this up to a small sample size, and maybe a bad shellfish or two.
But Derek, if you're reading, I would grow the mustache back ... just to be on the safe side. We'll be watching.